Intel's Museum of Me Mosaic Video
Published on

11 July 2011

Written by Melissa
A friend recently forwarded me this very cool social photo montage experience. The application was built for Intel's new line of processors; although I am not sure how it directly relates to the processors, it makes a great impression. Nevertheless, the ending part of the on-the-fly video results in a very amazing mosaic that is built from all of your Facebook friends.
Although it doesn't seem like the "Intel robot arms" are actually placing the photo's in the correct spots (sorry, just my mosaic eye), the overall effect is very cool!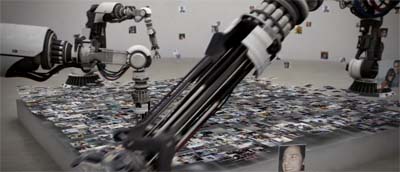 If you have a few minutes, be sure to check it out:
http://www.intel.com/museumofme

A few more stills of the last segment of the video which is building of the mosaic...even thought slighly fake build and overall mosaic, it is very very cool!