Attention all the cat lovers: here is a mosaic for you!
Published on

21 June 2012

Written by Melissa
I rarely pay attention to facebook ads, however surprisingly this one did catch my attention. Two cute kittens with the caption: "Save a life". I love cats, so I clicked through and to my surprise, a mosaic, the
Meow Mosaic
!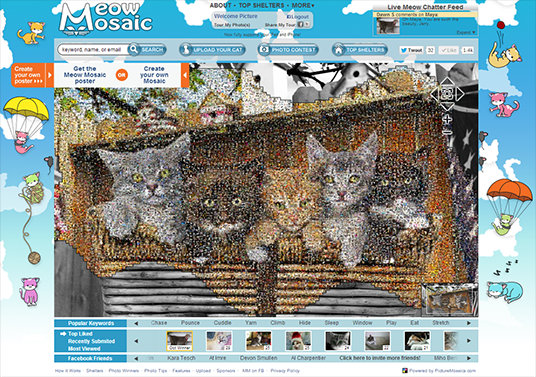 The amazing interactive mosaic was only enhanced by my love for cats. In its most basic form, it is a giant mosaic made from adorable cats submitted by users. Playing around with the mosaic, I quickly realized that are so many ways to interact and explore, however the  search feature really caught my attention, well, to be honest, it blew me away. Searching for a keyword will send you through a guided tour of all the cats that match that keyword; to say the least, it was visually stunning and captivating -  I could not pull my eyes away as the screen traversed through the mosaic stopping at each photo. 
Although the mosaic is breathtaking and addicting, my favorite part of this whole project is that every picture submitted donates $0.25 towards a participating animal shelter of your choice. As an extra incentive, every time you submit a photo you get a chance to compete in a monthly photo contest. The winners receive a personalized printed photo mosaic, donated by
Picture Mosaics
, of their cat! Even if you're not a winner, you can still create your own personalized Meow Mosaic print right through the mosaic.
Check out the site here
www.MeowMosaic.com
and please pass this along to all of your friends, it goes towards a really great cause.
And don't forget to submit a photo of your cat!