Two Great Car Mosaics for the Fans...
Published on

02 September 2011

Written by Melissa
Recently being in the market for a new car, I stumbled upon these two very cool mosaics when visiting their brand's Facebook pages. I added my photo and really felt like I was part of the brand experience. I never realized that a mosaic could really offer such a unique consumer-brand building experience, but these two mosaics do just that.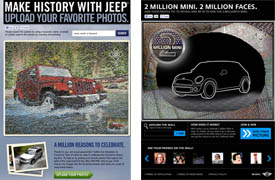 I know what you are thinking: a Jeep and a Mini, could I really be looking at two more opposite types of cars? I agree, but I like riding up high and having that extra cargo room, but I am a sucker for those cute Mini Coopers.
The Jeep Mosaic is simply a great way for fans become a part of the mosaic and share their favorite Jeep photos in a unique and fun way, the mosaic celebrates Jeeps, 1 millionth fan. The Mini Mosaicwas a bit different; you are able to submit your Facebook profile photos and enter a sweepstakes to win the 2 millionth Mini. As more people entered their profile photo, it slowly reveals more of the soon to be announced 2 millionth Mini.
If you are fan of SUVs or small trendy cars, both mosaics offer a unique way for their fans to become part of their brand.
Update: Doing a bit digging (ie. looking at the Facebook developer info), it seems our friends at Picture Mosaics were behind these two great interactive mosaics.