Sagaki Keita's Hand Drawn Mosaics
Published on

17 April 2015

Written by Melissa
 I love to doodle. I never thought of myself as much of an artist in that respect, I was always more of a photography person (photo mosaics too :-D), but I often find myself doodling whenever my mind wanders. I've always loved the idea of just randomly sketching out small, simple ideas that spring into my head. It's like a form of meditation! Anyway, during one of my photo mosaic hunts, I found the work of Sagaki Keita, a pen and ink artist living and working in Tokyo, and I was absolutely blown away.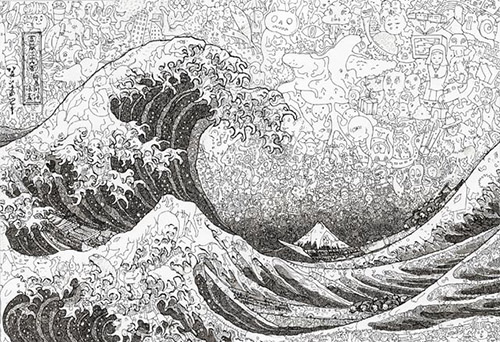 An Audiovisual Photo Mosaic Experience
Published on

26 March 2015

Written by Melissa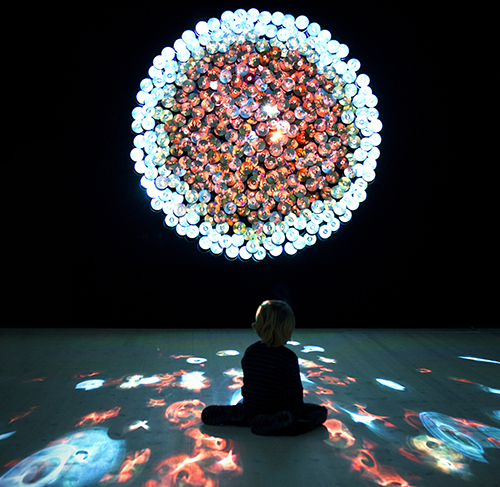 I love photo mosaics (duh!). But I really love when artists incorporate inventive and unique ideas to elevate the mosaic concept even further. Transforming old, sometime unused, objects into works of art is even better! I guess I don't need to tell you my interest was piqued when I came across these stunning photo mosaic installations from audiovisual artist Daniel Canogar.
Artistic Fuel: Mosaics Made of Firewood
Published on

13 January 2015

Written by Melissa
Finding creative inspiration in the everyday routines is a rare gift. For five consecutive years, Montana resident Gary Tallman has created intricately detailed mosaics out of chopped firewood, also referred to as cordwood. Each design takes more than 20 hours of labor to construct, not counting the initial design and sorting of the wood by color. The variety of colors and shades that naturally occur in the wood grain is phenomenal; in an interview with the Great Falls Tribune, Tallman compares each piece of wood to a pixel in a digital image. By combining different colors of wood, he can create lush shades and textures.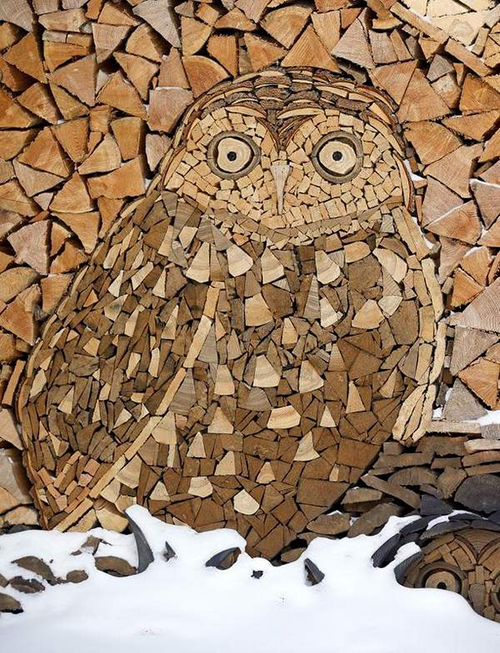 A Worldwide Photo Mosaic
Published on

18 December 2014

Written by Melissa
Outer space seems so unknowable and unreachable to most people. Thankfully, modern technology has given us a glimpse of our planetary neighbors and far away star systems. While reading some updates in the world of photo mosaics, I found a recent project from NASA called the Wave At Cassini Event. In mid-2013, the Cassini spacecraft took a short break from it's job of hovering around Saturn to snap a photo of its home, planet Earth.
In response and celebration, people from all over the globe submitted more than 1,400 photos of themselves waving at the Cassini spacecraft located over 800 million miles away. These photos were used by the Cassini mission team to create a massive photo mosaic of Earth as a thank you to all the contributors. Very cool! NASA even made the full resolution image available, which is really fun to explore. Click the image below for the full resolution version.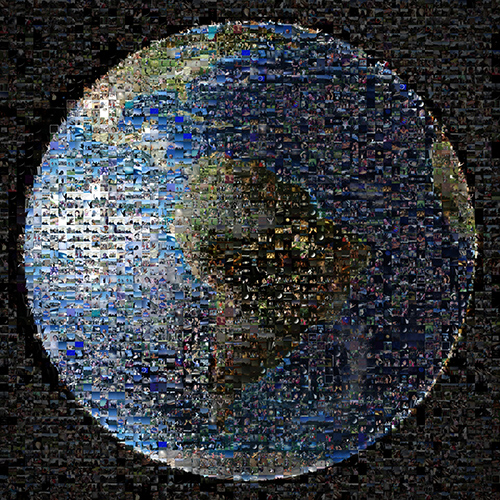 The Fanatic's Photo Mosaic
Published on

09 October 2014

Written by Melissa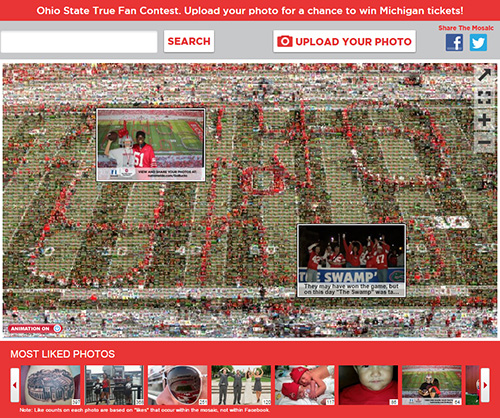 There's nothing quite like the love a fan feels for their favorite team. Especially football fans, they must be some of the most devoted supporters out there. That being said, it came as no surprise when I found the Ohio State University True Fan Mosaic, an online photo mosaic dedicated to the OSU Buckeyes. Fans can submit their photos to show their support and enter to win tickets to an OSU game!
Photo Mosaics Built on Nostalgia
Published on

28 August 2014

Written by Melissa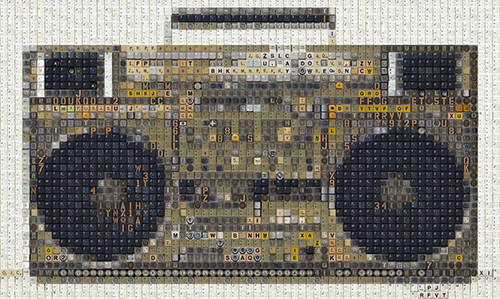 Nostalgia has become a significant part of pop culture in the United States. Clothing, furniture, technology, music, etc. from our childhood can leave a lasting impression on our personalities. In my ongoing search for the latest and greatest photo mosaics, I stumbled onto Austrian designer Kay Knight's work. Knight has figured out a way to channel that love for nostalgia into art by creating photo mosaics from outdated keyboard caps. Knight first plucks off each individual key, photographs them, then creates photo mosaics of vintage electronics, from arcade games to the Walkman.
Barcode Mosaic Portraits Worth Scanning
Published on

10 June 2014

Written by Melissa
What's Black, white, and read everyday? Barcodes of course. Few artists have experimented with these simple graphic icons. But wouldn't you have guessed it, I found an artist who turns them into mosaics! Florida based artist Scott Blake has devoted his creative passion to barcodes. From web work to paintings, Blake has dabbled in almost every field of artistic expression. Due to my love for photo mosaics, I want to focus on his digital mosaic portraits. I appreciate that these mosaics have an actual pattern to them and are not simply laid on a vertical and horizontal grid. 
A Real Cinderella Story
Published on

17 March 2014

Written by Melissa
I haven't been to many Broadway shows, but I can't pass up the opportunity to see Cinderella live on stage! While reading about the show, I stumbled onto the Cinderella Fan Mosaic, an online photo mosaic that's created in real-time! Cinderella fans can upload their photo to show their love and support for Fran Drescher and Carly Rae Jepsen on their Broadway debut.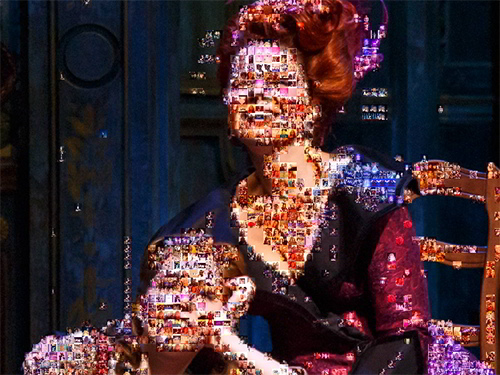 City-wide Mosaic
Published on

24 January 2014

Written by Melissa
I'm always on the hunt for fresh mosaic ideas, big or small. Big mosaic projects can be challenging, but very rewarding in the end. Created by artist Gerhard Marx in cooperation with Spier Architectural Arts, this larger-than-life mosaic of an aerial photograph of Johannesburg, South Africa spans 56 panels and weighs nearly three tons! Spanning five months of work by seven mosaic artists and nine apprentices to complete, it was unveiled at the 2013 FNB Joburg Art Fair in Johannesburg.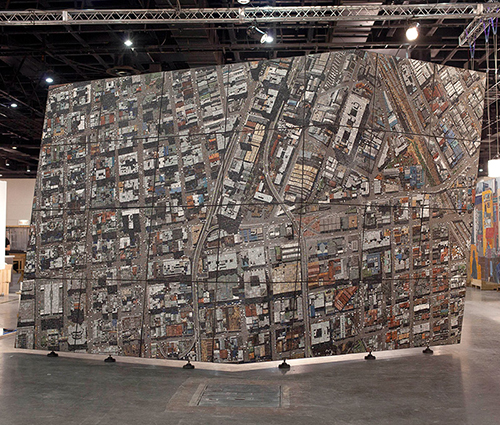 A Day in the Life
Published on

22 November 2013

Written by Melissa
November is American Diabetes Month and I've been looking for a unique way to honor my late grandmother who suffered from type 2 diabetes. What I found was that the American Diabetes Association has collaborated with Picture Mosaics to create an online photo mosaic dedicated to those effected by diabetes. As you know, I love photo mosaics, so I was immediately drawn in by this concept.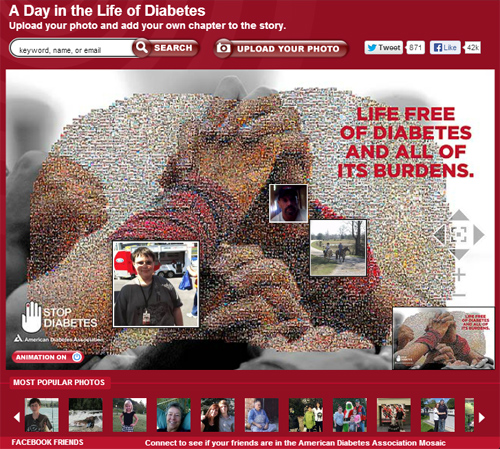 Mosaic of Galactic Proportions
Published on

03 October 2013

Written by Melissa
When I was very young, the first piece of art I was introduced to was Van Gogh's Starry Night. I was truly moved by it. The sweeping, textured winds, and the enormous stars were things that I, as a child, could easily relate to. So, when I found a photo mosaic of Starry Night with actual Hubble telescope photos as the cells, I was again re-absorbed into the piece.